Why divan bed is the ultimate sleeping Solution
Why divan bed is the ultimate sleeping Solution
When it comes to getting a good night's sleep, we all know how important it is to have a comfortable and supportive bed. That's where a divan bed comes in! If you're looking for the ultimate sleeping solution, let me tell you why a divan bed should be at the top of your list. From its practical design to its luxurious comfort, a divan bed offers a myriad of benefits that will have you dreaming sweetly night after night.
The Perfect Combination of Style and Functionality
A divan bed effortlessly combines style and functionality, making it a versatile choice for any bedroom. With its sleek and streamlined design, it adds a touch of elegance to your space. The beauty of a divan bed lies in its simplicity, allowing it to blend seamlessly with any decor style, whether you prefer a modern and minimalist look or a more traditional aesthetic.
Not only does a divan bed elevate the overall aesthetic of your bedroom, but it also offers practical storage solutions. Many divan beds come with built-in drawers, providing you with valuable space to keep your belongings organized and within easy reach. Say goodbye to cluttered bedrooms and hello to a tidy and serene sleeping environment.
Unmatched Comfort and Support For Good Night Sleep
A good night's sleep is all about finding the right balance of comfort and support, and a divan bed excels in both areas. Its sturdy base provides excellent support for your mattress, ensuring that your body is properly aligned throughout the night. This is crucial for maintaining a healthy posture and relieving any pressure points that can lead to aches and pains.
But that's not all! The comfort factor of a divan bed is enhanced by its plush and cushioned surface. Whether you prefer a firm or soft mattress, a divan bed can accommodate your needs. With a wide range of mattress options available, including memory foam, pocket sprung, and hybrid varieties, you can customize your bed to suit your individual preferences and sleep requirements.
Enhanced Durability and Longevity
Investing in a divan bed means investing in a long-lasting sleeping solution. The sturdy construction of a divan bed ensures its durability and longevity. Unlike some other types of beds, a divan bed is built to withstand the test of time, providing you with years of Good Night Sleep.
The solid base of a divan bed not only offers robust support but also helps to prolong the lifespan of your mattress. By evenly distributing the weight and pressure, it prevents sagging and maintains the shape and integrity of your mattress for longer. This means you can enjoy the benefits of your divan bed for years to come without worrying about premature wear and tear.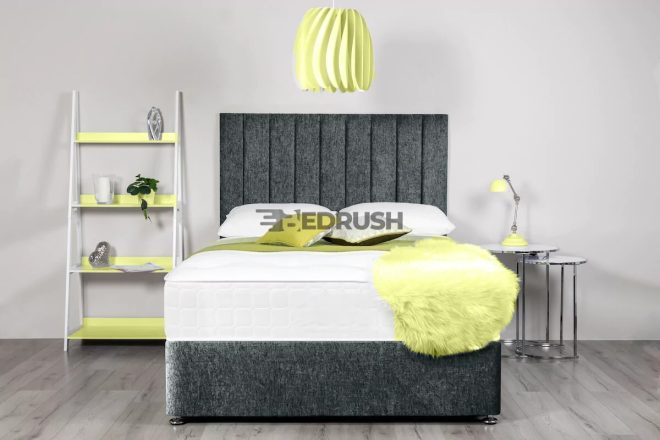 Versatile Design Options to Suit Your Taste
One of the fantastic things about divan beds is the wide range of design options available for Good Night Sleep. Whether you're looking for a contemporary leather finish, a classic fabric upholstery, or a luxurious velvet touch, you'll find a divan bed that perfectly complements your style and taste.
Not only can you choose from various upholstery materials, but divan beds also come in an array of colors and patterns. This allows you to personalize your bed and create a bedroom oasis that reflects your unique personality. With so many design possibilities, you can truly make your divan bed the centerpiece of your bedroom and a reflection of your individuality.
Convenience and Easy Maintenance
Last but not least, divan beds offer a level of convenience and ease of maintenance that is hard to beat. Assembling a divan bed is a breeze, and it requires minimal effort compared to some other bed frames. Within no time, you'll have your bed ready to provide you with a blissful night's sleep.
In terms of maintenance, divan beds are also incredibly practical. The removable mattress covers and washable fabrics make it easy to keep your bed fresh and clean. Accidents happen, spills occur, but with a divan bed, you can simply remove the cover and toss it in the washing machine for a quick and hassle-free cleanup. Say goodbye to the days of struggling to clean stubborn stains or dealing with the inconvenience of professional cleaning services.
Moreover, divan beds are designed with your convenience in mind. The built-in storage drawers not only help you keep your room tidy but also provide easy access to your belongings. No more rummaging through closets or searching under the bed for that misplaced item. With a divan bed, everything you need is within reach, neatly organized in the spacious and easily accessible drawers.
Conclusion 
Divan bed truly deserves its reputation as the ultimate sleeping solution. Its combination of style, functionality, comfort, and durability sets it apart from other types of beds. Whether you're looking to upgrade your current sleeping setup or furnish a new bedroom, a divan bed offers everything you need for a peaceful and rejuvenating sleep experience.
Remember, a Good Night Sleep is essential for your overall well-being. It affects your mood, productivity, and overall quality of life. So why settle for anything less than the best? Choose a divan bed, and let its elegance, comfort, and practicality transform your bedroom into a haven of relaxation and tranquility.
Checkout Bedrush Divan bed Collections