What to look for when buying a divan base?
The proper divan base should be chosen in order to provide a pleasant and supportive sleeping environment, just like the ideal mattress. In addition to improving the looks of your bedroom, a well-built divan base is essential to getting a good night's sleep. Given the wide range of alternatives on the market, it's critical to know what to consider when purchasing a divan base. We'll walk you through the important things to take into account in this guide so you can make an informed choice for a restful night's sleep. Welcome to the detailed guide to picking the best divan base from BedRush UK. Read this blog for What to look for when buying a divan base
Size Matters
Choosing the appropriate size is one of the first stages in purchasing a divan base. Your bed base should be the same size as your mattress. Single, double, king, and super king sizes are typical choices. To avoid any unwanted overhang or gaps, which can damage both aesthetics and comfort, make sure the divan base measurements are exactly in line with those of your mattress.
Construction and Material
A divan base's construction and material have a big impact on its performance and durability. Divan bases frequently consist of metal or wood. Metal bases offer strength and a modern appearance, while wooden bases deliver a classic aesthetic and sturdy support. Also, consider factors such as support slat quantity and spacing.
Storage Alternatives
Consider purchasing divan bases with built-in storage drawers if you want to make the most of the storage space in your bedroom. Extra sheets, pillows, or seasonal apparel can be neatly stored in these drawers out of sight. Select a divan base that provides plenty of storage without sacrificing structural stability.
Design and Style
The overall aesthetics of your bedroom are influenced by the divan base's design. Divan bases are available in a variety of designs to suit different interior preferences, from sleek minimalist shapes to opulent upholstered options. Pick a look that enhances the design of your bedroom and produces the atmosphere you want.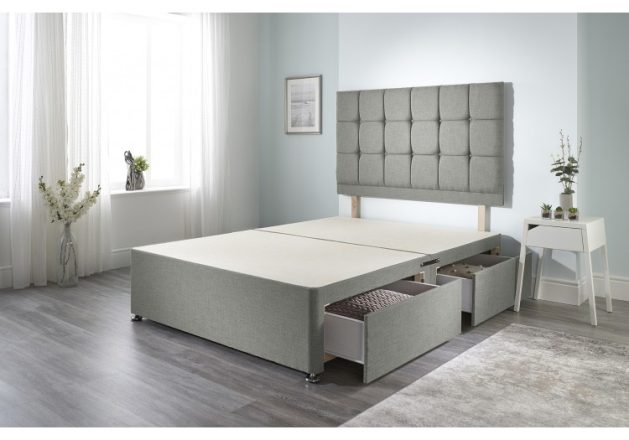 Fabric and Upholstery Options
 Divan bases with upholstery provide both comfort and a touch of class. When choosing upholstery, take into account the fabric's resilience, simplicity of upkeep, and degree of aesthetic appeal. With each delivering a distinct texture and appearance, popular fabric options include linen, velvet, and imitation leather.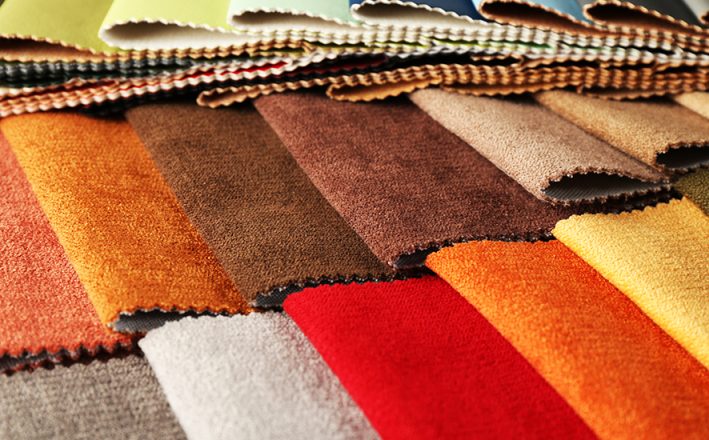 Headboard Compatibility
If you intend to use a headboard, make sure the divan base matches the design of the headboard. Some divan bases have headboards already attached, while others give you the choice to install several headboard styles. A divan base and well-matched headboard can enhance your bed's overall aesthetic.
Divan bases
Divan bases are available in a variety of pricing ranges, so it's crucial to set a budget before you go shopping. While it might tempt you to opt for the most opulent choice, multiple high-quality divan bases are available across different price ranges. Do your homework and read reviews before choosing something because remember that a higher price doesn't always indicate better quality.
Brand Reputation and Reviews
Before making a decision, look into the brand's history and read client testimonials. A sturdy and well-built divan base is more likely to be offered by a reputed brand. Customer testimonials provide perceptions into actual experiences, assisting you in evaluating the performance and quality of the product.
Assembly and Installation
If you intend to put up the divan foundation yourself, pay attention to how simple it is to assemble and install. Some divan bases have labelled parts and comprehensive assembly instructions, which makes the task easier. If DIY assembly doesn't come naturally to you, getting it installed by a pro can be a better option.
Longevity and Durability
Durability is a major factor to take into account when choosing a divan foundation. A sturdy divan base need to be capable of withstanding repeated use without drooping or losing strength over time. Look for divan bases with sturdy construction and high-quality materials. Corners and joints that have been reinforced are signs of a solid base that will offer enduring stability.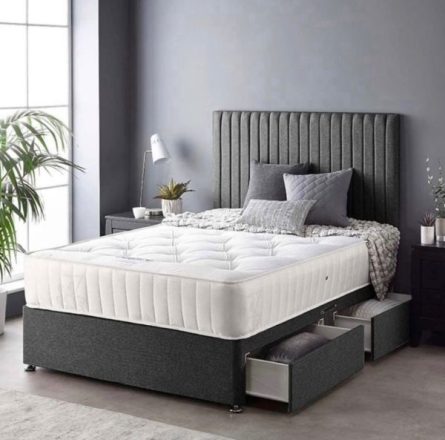 Maximum Weight
If you share a bed with a companion, be mindful of the divan base's weight capacity. Higher weight-bearing divan bases are intended to provide continuous support for both sleepers. A weight restriction check can assist stop premature wear and tear.
Adjustable Options
 Think about using a divan base with adjustable features if you like to customise your sleeping environment. You can obtain the ideal sleeping or relaxing posture by adjusting the head or foot of the bed on some sophisticated versions. People with specific medical conditions or those who merely like to read or watch TV in bed may find these adjustable divan bases to be extremely helpful.
Noise and Stability
An unstable or creaky bed might interfere with your sleep and general comfort. The solidity of a divan base and noise levels are frequently discussed in testimonials and reviews.
Conclusion
Choosing the appropriate divan base is an important first step in designing a cosy and inviting sleeping area. You may choose a divan base with confidence if you take into account aspects like size, material, storage choices, style, and budget. We at BedRush UK provide a broad selection of divan bases made to suit different preferences and needs. Look through our selection and choose wisely.
FAQ'S
A divan base is exactly what?
An example of a bed foundation is a divan base, which consists of a solid frame covered in fabric. It gives your mattress support and frequently includes extras like storage drawers or an upholstered headboard.

How do I choose the right size divan base?
Compare the dimensions of your mattress and the divan foundation to determine the proper size. Single, double, king, and super king are typical sizes. Verify that there are no gaps or overhangs between the base and the mattress.

Are divan bases with drawers for storage something to think about?
Absolutely. Having divan bases with storage drawers built in is a useful way to organise your bedroom. Making the most of your space, you may put additional bedding, pillows, or even clothing in the drawers.