Top Divan Bases You Should Buy 2023
Imagine sinking into a cloud of softness after a long day's work, a place where comfort meets style effortlessly. Enter divan bases, the unsung heroes of a restful sleep experience. In 2023, divan bases have evolved beyond mere functionality, offering comfort, elegance, and practicality. This blog post is your guide to the top divan bases that promise to redefine your sleep haven and make you embrace bedtime like never before. Following are Top Divan Bases You Should Buy 2023
Dreamscape Deluxe Divan Base
Transform your bedroom into a dreamscape with the Dreamscape Deluxe Divan Base. This divan base ensures sturdy support for your mattress and adds a touch of luxury to your space. Its customisable fabric options allow you to choose a design that resonates with your style. The plush upholstery and expert craftsmanship make it a true masterpiece. Prepare to experience nights of uninterrupted, dreamy slumber.
Serenity Haven Storage Divan
In a world where storage is king, the Serenity Haven Storage Divan reigns supreme. This divan base is more than meets the eye – it combines the allure of comfort with the practicality of storage. The built-in drawers offer a clever solution to declutter your sleeping area, keeping your essentials within arm's reach. Say goodbye to the chaos of a cluttered room and welcome the serenity of a well-organized sanctuary.
Elegance Embrace Upholstered Base
For those seeking the perfect fusion of elegance and comfort, the Elegance Embrace Upholstered Base is a masterpiece. With its tasteful design and premium upholstery options, this divan base adds a touch of sophistication to your bedroom. But it's not all about aesthetics – the Embrace Upholstered Base also prioritises ergonomic support, ensuring your sleep is stylish and refreshing.
Nature's Rest Organic Divan
The Nature's Rest Organic Divan steps up as a game-changer in a world that's becoming increasingly conscious of sustainability. Crafted from sustainable materials, this divan base is a testament to your commitment to your well-being and the environment. It's more than just a bed; it's a statement of your values. With Nature's Rest, you can sleep peacefully, knowing that your choice contributes to a greener planet.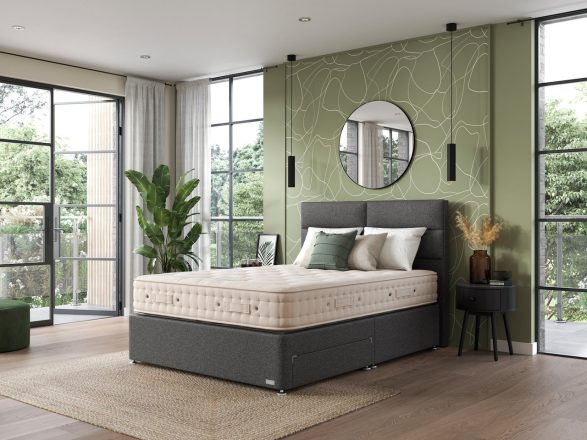 Harmony Haven Adjustable Divan
Sometimes, comfort comes in the form of adaptability. The Harmony Haven Adjustable Divan is your answer to personalised comfort. With adjustable features that allow you to find the perfect angle for reading, watching TV, or simply relaxing, this divan base embraces your every need. Say goodbye to propping up pillows – the Harmony Haven brings you comfort and convenience in one luxurious package.
Elevate Your Comfort: The Ultimate Guide to Top Divan Bases You Should Buy in 2023 (Continued)
In a world that often feels fast-paced and chaotic, your bedroom should be your haven of tranquillity, where you can recharge your body and soul. The divan bases mentioned above are not just pieces of furniture; they embody your desire for comfort, your quest for quality sleep, and your yearning for a space that reflects your personality.
Imagine sinking into the plush embrace of the Dreamscape Deluxe Divan Base after a particularly taxing day. The softness cradles you, melting away your worries and inviting you to unwind. As you drift into slumber, you can't help but smile at the luxury that envelopes you, making you feel cherished and cared for.
Finally, let's envision the Harmony Haven Adjustable Divan. Imagine finding that perfect angle supporting your body just as you need it. As you read a book or catch up on your favourite show, your body thanks you for the personalised care. This divan base isn't just about convenience; it's about self-love and embracing the uniqueness of your needs.
Conclusion
As you embark on your journey to discover the divan base that resonates with you, remember that you're not just purchasing furniture but investing in your well-being. These divan bases are your partners in creating a sleep haven that meets your physical, emotional, and even ethical needs. Each night, as you surrender to their comfort, let yourself be reminded that you deserve the best – a sleep experience that rejuvenates your spirit and rekindles your zest for life.
So, here's to 2023 – a year of embracing comfort, style, sustainability, and personalisation. May your nights be filled with dreams that reflect the beauty of the divan base you choose. Elevate your comfort, and let each night remind you of the love and care you've invested in yourself.
Can I use any mattress with these divan bases?
Absolutely! These divan bases are designed to accommodate a wide range of mattresses. Whether you have a memory foam, innerspring, or hybrid mattress, these bases provide the necessary support for a restful sleep.

Are the storage drawers in the Serenity Haven Divan Base spacious enough?
Yes, the storage drawers in the Serenity Haven Divan Base are intelligently designed to maximise space. You'll be surprised at how much you can store – from extra bedding to seasonal clothing, these drawers have you covered.
How do I clean and maintain these divan bases?
Maintaining these divan bases is a breeze. Regularly vacuum or gently brush off any dust or dirt. In case of spills or stains, spot clean with a mild detergent and a soft cloth. Always refer to the manufacturer's care instructions for specific guidance