How to Make a Stylish Headboard For Your Bed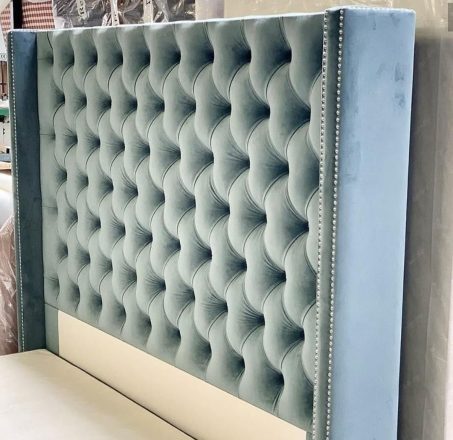 Your bedroom should be a sanctuary that reflects your personality and sense of style. Not only is a headboard a useful piece of furniture, but it also plays a significant role in giving your bed a focus point.
While headboards from the store are practical, making your own gives you the chance to add a unique touch and customise it to your personal preferences. This in-depth tutorial will walk you through the process of making a stunning headboard that will turn your bedroom into a chic retreat.
1. Planning Your Headboard Design:
Spend some time planning your headboard design before beginning the construction procedure. Take into account the size of your bed, colour palette, and other furnishings in your bedroom. Choose a design that enhances the overall aesthetic and atmosphere you hope to create. Upholstered, wooden, and repurposed materials used in DIY projects are common headboard designs.
2. Collecting Materials and Tools:
In order to make your ideal headboard, you'll need a few basic supplies and equipment. Depending on the style you choose, the specific requirements may change, but common materials include wood boards, cloth, foam cushioning, screws, nails, and paint or stain.
To complete the project successfully, make sure you have the required instruments, such as a saw, drill, hammer, and measuring tape.
3. Step-by-Step Development:
Step 1: Measure and Cut –
Determine the desired height for your headboard by measuring the width of your bed. The wood board should be marked with these measurements, then sawed to the proper size.
Step 2: Sanding and Finishing
– Use sandpaper to smooth the wood's edges and surfaces to prevent splinters. Apply paint or stain to match the decor of your bedroom and allow it to cure in accordance with the manufacturer's directions.
Step 3: Upholstering (Optional)
– Cover the front of the wooden board with foam padding and fasten it with glue to create an upholstered headboard. Next, stretch the fabric taut and wrap it over the foam and wooden board before stapling it to the back. Cut out any extra fabric for clean finish.
Step 4: Addition of Details
Add distinctive accents to your headboard, such as buttons, tufting, or nailhead trim, to make it more distinctive and individualised. Your headboard could appear better overall and become completely unique with the addition of these accessories.
Step 5:
It's time to mount the headboard to your bed frame or the wall behind your bed in the final step. For the sake of avoiding mishaps and wobbling, make sure it is firmly secured.
4. Safety Considerations:
When working on any DIY project, safety should be a top priority. Work in a well-ventilated area and follow manufacturer instructions for any chemicals or tools used during the construction process.
5. Maintaining Your Headboard:
Once your headboard is in place, regular maintenance will ensure it stays in excellent condition for years to come.
Dust or vacuum the fabric or wooden surface regularly to prevent the buildup of dirt and allergens. In case of any spills or stains, attend to them immediately with a gentle cleaner or upholstery spot treatment.
6. Examining Potential Headboard Designs:
The possibilities for headboard design are essentially endless. Let's examine some well-liked and imaginative concepts to motivate your do-it-yourself project:
a) Rustic Charm with Reclaimed Wood: If you want your headboard to have a homely, rustic vibe, use reclaimed wood to make it. Pallets or salvaged barn wood can give your bedroom personality and a nostalgic feel.
b) Upholstery That Makes a Statement: Headboards with upholstery radiate style and comfort. Create a sumptuous focal point for your bed by using opulent fabrics like velvet or soft linen.
c) Eclectic Patchwork: If you enjoy colour and pattern, use a patchwork of several fabrics to make an attractive headboards. To give your bedroom a vivid and diverse feel, choose complementing colours.
d) A minimalist floating headboard is a great space-saving choice, especially for tiny bedrooms. It is fastened directly to the wall. It has a sleek, contemporary appearance that goes well with modern furniture.
e) DIY Pallet Headboard: Pallets can be used to create a fashionable and cost-effective headboard. Paint the pallets to match the colour scheme in your bedroom, or sand and stain them for a stylish rustic look.
f) Vintage Door Headboards: Create a unique headboard out of an old vintage door by painting it new or giving it a shabby-chic finish. This original concept will surely spark conversation.
Conclusion:
Making your own headboard is a satisfying and fun hobby that enables you to let your creativity run wild and transform your bedroom. Whether you choose a rustic wooden headboard or an opulent upholstered one, the end product will definitely bring a touch of style and elegance to your bedroom's decor.
Keep in mind to take your time during the planning and building phases, and before long you'll have a gorgeous headboard that serves as the focal point of your ideal bedroom.
Visit Love My Beds at https://lovemybedss.co.uk/ for high-quality beds and bedroom accessories. Merry making!
Related Blogs:
FAQ:
1. Is building a headboard a challenging do-it-yourself task?
In no way! Making a headboards yourself may be a gratifying and enjoyable endeavour for both inexperienced and seasoned craftspeople. Depending on the design you select, the project's complexity will change.
Basic woodworking skills may be needed for simple designs like a wooden headboard, although some sewing and upholstery work may be required for upholstered headboards. However, anyone can make a beautiful headboard with proper design and the appropriate equipment.
2. How much would it cost me to create my own headboard?
The materials you select, the headboard's size, and any other embellishments will all affect how much it will cost to make a headboard. DIY headboards typically cost less than choices from the store.
Basic wooden headboards can run you between £50 and £100, while upholstered headboards can cost anywhere between £100 and £300, depending on the fabric and padding you choose.
3. Can I modify the headboard to match the furnishings in my bedroom?
Absolutely! Making your own headboard gives you the opportunity to personalise it to match your bedroom's decor and sense of style.
You can pick the colour, material, and design components to flawlessly match your current decor or make a special focus point.