How to assemble a bed frame with headboard and footboard
Are you eager to give your bedroom an upgrade with a new bed frame that includes a chic headboard and footboard? Although putting together a bed frame may appear difficult, have no fear! We'll take you step-by-step through the process of putting up a bed frame with a headboard and footboard in this detailed tutorial, assuring a stress-free and successful experience. We at BedRush UK cherish your comfort and pleasure, which is why we have put together these simple guidelines to get you ready for a restful night's sleep right away. Let's get going How to assemble a bed frame with headboard and footboard !
Step 1: Open packages and arrange
Make sure your bedroom has enough space for you to work comfortably before starting the assembly procedure. Carefully unpack the items, being careful not to mutilate any components. After the components have been unpacked, arrange them according to the BedRush UK instruction booklet. Learn about the hardware and parts that are provided in the kit.
Step 2: Inspect All Accessories and Tools
Verify that each of the parts listed in the instruction manual is present. A Allen wrench, screws, nuts, and bolts are typical tools that you should have on hand. You'll save time and streamline the procedure if you have everything ready.
Step 3: Get the Area Ready
The space where you will assemble the bed frame should be cleared. When assembling the parts, place a soft cloth or blanket on the floor to shield them from scuffs and damage.
Step 4: Start with the headboard
Assemble the headboard first. The headboard posts will typically have the letter "H" in the instruction manual. Attach the headboard posts to the headboard panel's proper slots. To firmly fasten the posts, use an Allen wrench and the supplied screws.
Step 5: Add the Footboard
After the headboard is set up, assemble the footboard. The instruction book should have a "F" next to the footboard posts. Using the supplied screws and an Allen wrench, fasten the footboard posts to the footboard panel.
Step 6: Attach the side rails
It's time to install the side rails after the headboard and footboard are firmly in position. The headboard and footboard will be joined by these rails to create the bed frame. Correctly position the side rails and fasten them using the included hardware. To guarantee stability and safety, check that all connections are securely fastened.
Step 7: Install the centre support bar (if necessary)
Some bed frames include a centre support bar to offer further stability. If your bed frame includes a headboard, install it right away. To set and secure the centre support bar properly, adhere to the manual's recommendations.
Step 8: Evaluate the Robustness
Shake the bed frame gently to check for any loose connections before continuing. Check all of the screws and nuts for instability or wobbling, and tighten any that need it.
Step 9: Attach the Slats
You can now add the slats that will support your mattress. Ensure that you properly position the slats and distribute them equally around the bed frame. As per the given directions, secure them in place.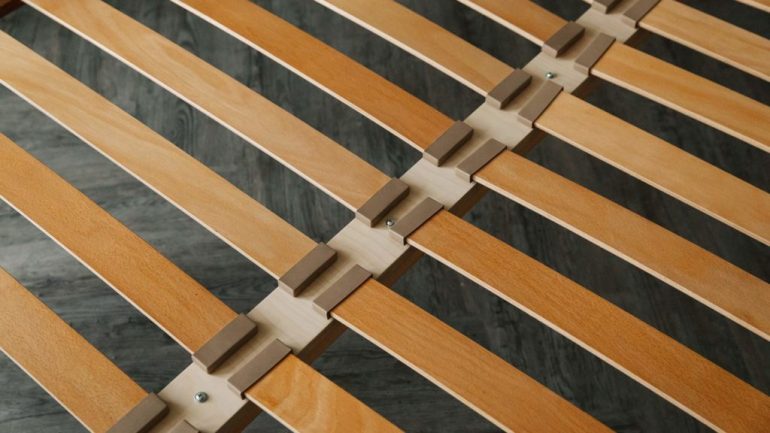 Step 10: Adhere to Weight Capacity Recommendations
After completing the bed frame's assembly, make sure to read the weight capacity recommendations offered by BedRush UK. Respecting these recommendations is essential for both your safety and the durability of the bed frame.
Step 11: Setting the Bed Frame in Place
Finding the ideal location for your bed frame in your bedroom is now necessary after it has been entirely completed. Take into account elements including the room's design, the location of additional furniture, and the ease of access to electrical outlets. To ensure a seamless morning ritual, choose a location that enables simple entry and exit from both sides of the bed.
Step 12: Mattress placement
Make sure your mattress is clean and debris-free before setting it on the bed frame. Ensure that you carefully lift and place the mattress on top of the slats, positioning it uniformly on all sides.
Step 13: Adding Bedding and Accessories
The enjoyable part is now upon us: making your bed! Select bedding and furnishings that go well with your bedroom's overall design. Your bed can become a fashionable centre point by choosing the proper bedding, pillows, and throws, whether you want a clean, modern aesthetic or a warm, layered one.
Conclusion
Congratulations! Your bed frame, complete with a headboard and footboard from BedRush UK, is now complete. By carefully following these instructions, you can ensure that your mattress has a solid and cosy foundation and that you'll have years of restful sleep. Remember that a bed frame's longevity depends on its proper installation, so take the time to inspect all connections and fix any loose screws. Now sit back, unwind, and enjoy your newly constructed bed—sweet dreams are waiting for you!
Check out our exclusive collection of high-quality bed frames with headboards and footboards at BedRush UK, where comfort and style come together to make your bedroom an oasis of luxury and relaxation. Enjoy your sleep!
Read more Where to buy bed frame and mattress
FAQ'S
A bed frame with a headboard and footboard typically requires how long to assemble?
The amount of time needed for assembly will depend on the complexity of the bed frame design and your prior expertise with projects of a similar nature. In most cases, it takes between 30 minutes and 2 hours. If you take your time and properly follow the directions, we guarantee an easy and quick construction process.
Which tools are required to put together a bed frame with a headboard and footboard?
The bed frame package often includes all necessary equipment, such as an Allen wrench and screws. Nevertheless, you should keep a screwdriver on hand in case it's necessary for any particular components.
Do the bed frame's assembly instructions come with it?
The majority of bed frames with headboards and footboards do come with instructions for assembly. BedRush UK offers thorough assembly instructions with step-by-step illustrations in their manuals.