Creative Headboard Hacks You Should Know
Headboard Hacks You Should Know
Are you tired of staring at the same old boring headboard in your bedroom? Do you want to give your sleeping sanctuary a fresh and stylish update? Look no further! In this comprehensive guide, we will unveil a collection of creative headboard hacks that will transform your bedroom into a personal haven of comfort and style. Get ready to discover ingenious ideas and practical tips that will leave you inspired to create a headboard that truly reflects your unique personality and enhances the ambiance of your bedroom. So, let's dive in and explore these headboard hacks that will take your bedroom to the next level!
Repurposed Doors
If you're a fan of vintage aesthetics and rustic charm, repurposing old doors as headboards is the perfect hack for you. Salvaged wooden doors can be transformed into stunning, one-of-a-kind headboards that exude character and history. Simply sand them down, apply a fresh coat of paint or stain, and mount them securely to the wall behind your bed. The result is a headboard that becomes the focal point of your bedroom, evoking a sense of nostalgia and adding a touch of elegance to the overall decor.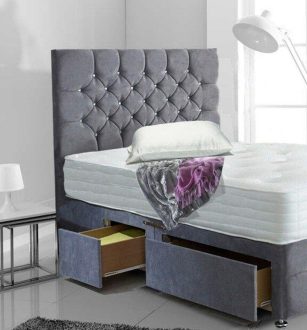 Bookshelf Headboards
For bookworms and avid readers, a bookshelf headboard is a dream come true. Not only does this clever hack enhance your bedroom's aesthetics, but it also offers a practical storage solution. By installing a bookshelf directly behind your bed, you can showcase your favorite books, decor, and even potted plants. Experience a personalized touch and keep your beloved reads within reach for cozy bedtime reading sessions.
Fabric Wall Panels
If you crave a touch of luxury and sophistication in your bedroom, fabric wall panels make for an exquisite headboard hack. Choose a luxurious fabric that complements your bedroom decor and stretch it over a wooden frame or attach it directly to the wall behind your bed. The softness and texture of the fabric create a cozy and inviting ambiance, while the panels themselves add a sense of opulence and elegance. This headboard hack is perfect for those who desire a chic and upscale look.
DIY Pallet Headboards
If you're a fan of the rustic farmhouse style, DIY pallet headboards are a fantastic choice. Pallets, often discarded or available at minimal cost, can be transformed into charming and eco-friendly headboards. With a little creativity and some basic woodworking skills, you can craft a headboard that perfectly complements your rustic decor. Whether you leave the wood unfinished for a natural look or paint it in a distressed finish, a
DIY Pallet Headboards
adds warmth and character to any bedroom.
Wallpaper Magic
Sometimes, all it takes is a touch of pattern and color to transform a mundane headboard into a stunning focal point. Enter the magical world of wallpaper! By applying wallpaper to your existing headboard or directly to the wall, you can instantly infuse your bedroom with style and personality. Choose from an array of patterns, colors, and textures that align with your taste and overall decor. Experience the versatility of this hack by effortlessly changing the wallpaper, keeping your bedroom fresh and updated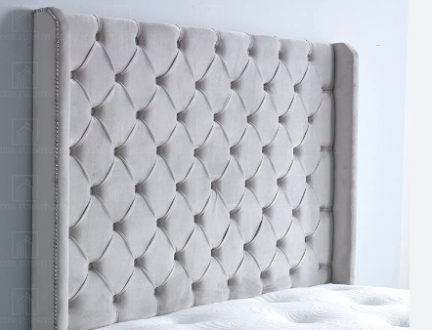 Upholstered Headboards
If comfort is high on your list of priorities, an upholstered headboard is the way to go. Upholstered headboards provide a plush and comfortable surface to lean against while reading or watching TV in bed. Select a fabric that complements your bedroom decor, such as soft velvet, cozy linen, or vibrant patterns. Upholstered headboards come in various shapes and sizes, allowing you to find the perfect style to suit your taste and create a luxurious and inviting atmosphere in your bedroom.
Wall Decals
For a quick and budget-friendly way to add style and personality to your headboard, consider using wall decals. Wall decals are adhesive stickers that can be easily applied and removed without damaging the walls. They come in a wide range of designs, from intricate patterns to inspiring quotes and nature-inspired motifs. Simply choose a decal that resonates with your style and apply it directly to the wall behind your bed. This creative hack allows you to change up the look of your headboard whenever you desire a fresh update.
Lighted Headboards Hacks
Transform your bedroom into a dreamy and enchanting haven with a lighted headboard. Transform your room with a magical glow by installing LED or string lights behind your headboard. Not only does it enhance the atmosphere, but it also serves as a practical reading light. Customize the ambiance with warm or cool-toned lights and adjust the brightness to suit your preferences. Experience the ultimate cozy and relaxing retreat with this captivating headboard hack
Conclusion
Transforming your headboard from a functional necessity to a stunning design element is an exciting endeavor. With these creative headboard hacks, you have a options to choose from based on your personal style and preferences . Whether you opt for a repurposed door, a bookshelf headboard, or a fabric wall panel, each hack brings its own unique charm and transforms your bedroom into a personalized haven. Experiment, get creative, and let your imagination run wild as you embark on this journey to create a headboard that truly reflects your style and enhances your bedroom's ambiance.
Checkout Bedrush Headboard Collection